Copper-line Speaker Cable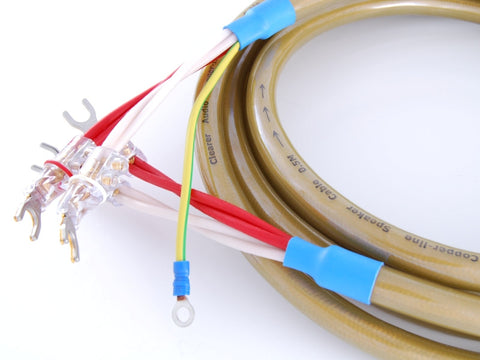 + CLICK IMAGE TO ZOOM
Sorry, this product is temporarily out of stock.
INFO
6N OCC Copper (99.9999%) multi-strand conductors (4 x 2.5²mm); Foamed Polyethylene Dielectric; Three layer copper shielding system (Dual-layer copper foil and 6N OCC Copper braid); ColdPlug (pure copper cold welded) connectors.
---
High performance shielded OCC copper speaker cable provides excellent resolution.
---
Ideal for mid-range hi-fi systems where performance is critical. Can be configured in full range (2-2), bi-wire (2-4) and bi-amp (4-4).
---
Available with both banana plugs and spades. Lengths from 1m with 0.5m increments.
---
Designed and built in the UK
SPECS
FULL SPECIFICATIONS SHEET - PDF
SUPPORT
INSTALLATION / CARE INSTRUCTIONS - PDF